Portugal has the same type of road rules as most other European countries. Driving on the right side of the road, you need to be 18+ and have a legal drivers license. But there are still some areas were the rules are different.
There are separate articles for speed limits and the portuguese toll system as they are a bit more complex than usual.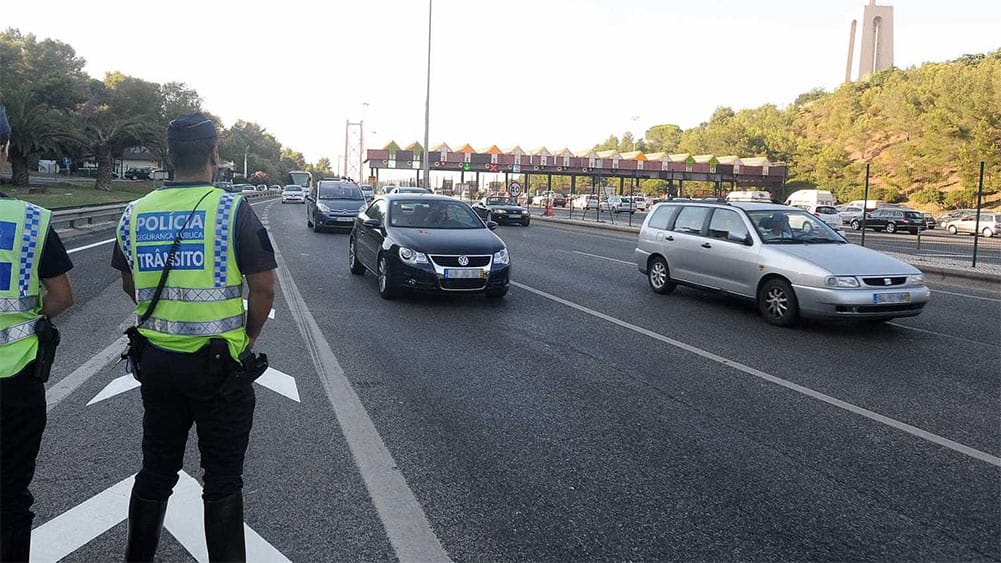 Mandatory documents and equipment
You need to have with you at all times your drivers license, personal ID, car registration and insurance green card. Do make sure your insurance is valid in Portugal. If you drive without proper insurance your car will be seized on the spot by the authorities and a fine between 500 to 2500 Euro will be issued.
Portuguese police have cars equipped with cameras that read license plates and give information about insurance, lack of MOT and any info about the car being stolen or their driver wanted for arrest.
On your car there needs to be a emergency warning triangle and a high visibility vest. In case of an accident or breakdown you need to wear the high visibility vest and place the warning triangle to signal that your car is stopped on the road.
If you are renting a car make sure these two items are present.
Also if your car has a spare tire it needs to be in working condition, although most cops don't even bother to check it.
Old cars in Lisbon
If you are bringing an old car to Lisbon be advised that there are limitations during the week between 7h00 and 21h00.
On Avenida da Liberdade and Baixa you cannot drive a car older than the year 2000 and in the other areas of the city you car can't be older than 1996 to be allowed to drive.
This is more of an issue with Portuguese cars has the year and month of their first registration is displayed in the license plate, but if you want to drive your vintage Rolls Royce around town it might caught the attention of the police.
Residents are exempt from this limitation, so you might see some older cars circulating during those hours in the week.
Alcohol limits
Don't drink and drive. In all fairness a beer or a glass of wine might not be too much, but be aware that portuguese beer has more than 5% alcohol volume and typical wine has 15% alcohol volume.
You can drive with up to 0.5g/l of alcohol in your blood, more than that and you get fined and your license is taken away.
If you have more than 0.5g/l and less than 0.8g/l the fine is between 250 and 1250 Euro and your license is taken away from 1 month up to a year.
If you have more than 0.8g/l and less than 1.2g/l the fine is between 500 and 2500 Euro and your license is taken away from 2 months up to 2 years.
More than 1.2g/l and it is considered a crime and you will be jailed
Drink driving is a problem in Portuguese roads and the police are always very active stopping cars at night near nightlife areas, checking for drink drivers.
Minimum age to rent a car
This isn't really a driving rule, but some rent-a-car companies won't allow you to rent if you have less than 25 years or if your license was issued in less than 3 years.
Make sure to check with the company what their limitations are.